Today is the 112th anniversary of Kappa Delta's founding and I'm dreaming of pearl white and olive green. I was a KD at FSU and I loved every minute of it. Since I moved to Virginia its been hard being away from my sorority sisters (most of them are still in Florida) and I already miss being involved with KD. My bridesmaids in my upcoming wedding are Kappa Delta alums, and my maid of honor (my sister) is a KD in her last year at FSU. I'm always excited to meet other Kappa Deltas, but there isn't an alumnae association where I now live!
I've found that Junior League is a great way to get involved in the community after sorority life. I'm a provisional member or the league here and I absolutely love it! Has anyone else had this experience?
Here are some pictures of KD fun in college.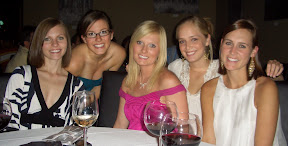 "Let us strive for that which is honorable, beautiful, and highest."
Emily