Once again I am completely useless at work...all I can think about is my wedding in 10 days (and Spain)! Since I've been so unbelievably distracted lately, I've discovered two websites that I now absolutely love...
polyvore
and
alice
. I've been playing on polyvore for hours today. I don't know why I find it so enjoyable to recreate my outfits online, but it is so much fun!
I actually just discovered alice yesterday while I was reading a post by
the future mrs. smith
. I immediately created an account and started searching for products that the fiance and I use. (Literally 20 minutes after I found this site the fiance called to tell me we were almost out of toilet paper...so I added it to the cart!) What a great way to make sure our home is always stocked with the necessities! Not to mention, shipping is free (I so hate paying for shipping). I am such an organizer, so I basically jump for joy when I discover any new way to further organize my life.
Obviously I couldn't spend all that time online without looking at clothes...and now I am in love with this top I found at Anthropologie. It has little buttons in the back are simply fabulous! I'm definitely stopping in our Anthro after my hair appointment this afternoon to see if they have it!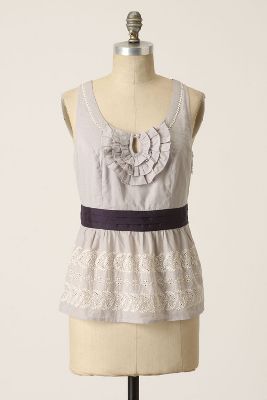 (Anthropologie Partly Cloudy Top)
Wedding Countdown: 10 days