Thanks so much to
Pink Champagne
for tagging me with the Happy 101 award! Her blog is absolutely adorable...I definitely recommend checking it out if you haven't already!
10 things that make me happy...
1) My wonderful husband. He is my super supportive best friend and I love him dearly!
Pictures from our last dance just before leaving our wedding reception for Spain!
2) The Poe Cat. He's just so adorable...he always makes me happy!
He was helping me organize...
3) Mailing little homemade gifts and pretty handwritten notes to friends. I love pretty stationery, making cards for holidays, and finding/making little things to brighten other people's day.
Valentine cards I made this year
4) Creating things. At any given time I probably have at least three crafty projects I'm working on. Right now I'm finishing a turquoise necklace, working on some paintings for the living room, and I just bought some fabulous Amy Bulter fabric yesterday for the tunic I'm going to attempt to sew! (I bought a coordinating solid color for the trim.)
(image from fabric.com)
5) Having fresh flowers in our home.
(picture from countryliving.com)
6) Champagne. The husband and I love to have champagne celebrations!
7) Cupcakes
8) Organizing. I am an organizing addict! How fabulous is this ultra-organized (and brightly colored) laundry room?!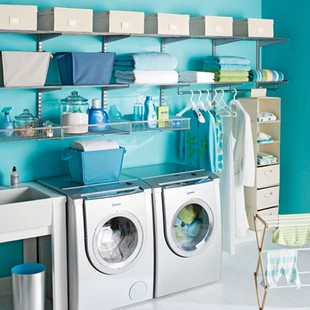 9) Artistic photography and pictures full of emotion. I've recently discovered Flickr (I know...apparently I've been living under a rock) and I'm now completely obsessed!
(image from flickr user elmoile)
10) Wearing dresses (and shopping for them). Dresses are by far my favorite thing to wear...to work, running errands on the weekend, and dressing up! This dress is so fun and summery!
See By Chloe dress from Net-A-Porter
I'm passing this award along to my 10 newest followers...
JJ from
My World
Same Sweet Girl: Memoir of a Southern Bell
At the Blue Barn
Amy from
Sweet Home Amy
Laugh, Live, and Shop
College Prep
Caroline from
She Walks in the Woods
Leslie from
And Her Little Dog Too
Also Lindsay and JBunn...but I can't find the links to y'alls blogs! (I'm not the most computer savvy girl and I haven't figured out the difference between google friend connect profiles and blogger profiles...is there one?)